Bossmatic Control Valves from Northvale Korting
Special Offer now on !
4 off in stock

Description
Northvale Korting Control Valve
Application
Pressure, Flow, Temperature or Level Control
Input
4-20mA and 6 Bar Instrument Air
Size
DN15, DN20 and DN25
Flange Rating
ANSI 150 or ANSI 300
Body Material
316 Stainless Steel
Fail Action
Air fail Open
CV Value
12 , 20, 32
Positioner
Moore Products E/P (4-20mA input)
Warranty
1 Years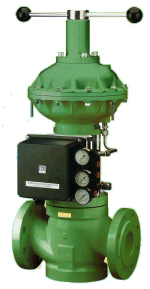 Contact us now, while stocks last
Tel: 01202 480303
Fax: 01202 480808
Email

See also

OMC V100: DIN rated, PN flanged control valves. Typically used for

Steam

, Water and Gas applications. Can be provided with Class V or Class VI shutoff. Provide compact solution

with pneumatic or electric actuators

and positioners.




OMC K150: 3-Port Mixing / Diverting Control Valve for flow suitable for DHW (Hot water systems, including temperature control of plate heat exchangers and calorifiers.