The InstMC Wessex Section held its annual Dinner Dance on Friday, 7 March 2008 in the Wessex Hotel, Bournemouth.
This prestigious event continuous to grow in popularity attendance with a consistently high quality 5 Course Dinner, dancing to live band 'Majesty' and new for 2008 Magician 'Laurie B'. This is the third year that Dawn Bushrod has organised the event and attendance has grown by 20 each year to 171 based on a solid reputation. This is the opportunity for the professional community to relax with partners and like-minded friends and colleagues. To socialise and build relationships within our profession and say thank you to business associates. The evening is always kept informal with no long after dinner speeches and the emphasis on having fun. This year the sponsorship for raffle prizes was outstanding with over £1000 worth of prizes.
Raffle Proceeds

The £781 raised will be used to support children's education. The plan is to buy Lego Mindstorms Educational Robotic sets & donate them to local schools. By building and programming smart robots in a natural, step-by-step learning process, students put their knowledge into practice and are challenged to come up with new ideas. Maybe sparking a career interest in Engineering.
The event was supported by the following companies:
Coulton Instrumentation
Honeywell Analytics
Metso Automation
Groveley Detection
Adsyst Automation
Swagelok (Bristol Fluid System Technology)
Pepperl & Fuchs GB
Hima-Sella
MTL Instruments
VEGA Controls
Dresser Flow Solutions
Transmark Fcx
AICA Amber Integrated Controls & Automation
Bridges Electrical Engineers
Southern Electric Contractors, Electrical & Instrumentation
Emerson Process Management
Flowserve Flow Control Division
Next year's Dinner Dance will be held on 27 February 2009. For more information, contact:
Dawn Bushrod - - www.InstMC.org.uk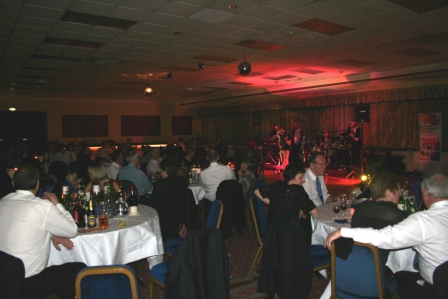 A scene from the InstMC Wessex Section's enjoyable annual Dinner Dance in Bournemouth.