3 to 6 channels PHF Graphic Recorder (Paperless)

New graphic recorder PHF

User friendly and competitively priced, the new PHF graphic recorder extends Fuji Electric's rane of data and chart recorders.

With a STN 5,7² screen display, CF card data storage, the possibility to display recorded data either on his own screen or on a PC... The new PHF video graphic recorder is a device full of capability to make your data capture more affordable and hassle free.

Available with three and six-point inputs (universal input: thermocouple, resistance bulbs, voltage/current input) with Ethernet connection (option), digital input/output (option) with 4 alarms for each channel, the new PHF will reduce installation costs. Typical applications for this recorder are ovens, sterilizers , climatic chambers, thermal (heat) treatment, water processing.

As an option, 10 relay outputs and 5 digital inputs can be added. The PHF paperless recorder can be configured via the front panel keys or through Fuji Electrics configuration software (Supplied free of charge).

Features

o

3 or 6 universal input points (thermocouple, resistance bulb, DC voltage and DC current),

o

Recording sample Time: 1s to 12 Hours with 100ms Measuring cycle

Data can be stored to Memory card (2Gb)


o

Input filter option, square rooter function, subtraction function,

o

5,7'' STN colour screen (320 x 240 dots),

o

Various display capabilities are available (horizontal and vertical recording, digital display, graphic display...),

o

Continuous recording and start/stop with digital input (as an option),

o

Trend data : Average, instance and min and max values,

o

Data storage on a Compact Flash memory card (8MB to 2GB),

o

Up to 4 alarms for each channel are settable (with 10-points relay output as an option),

o

5 digital input (start/stop, E-mail sending... as an option),

o

Free configuration software and free real-time trending software enabling recorded data to be viewed on your PC.

o

Ethernet connection (as an option): FTP server - SMTP (EMAIL client) - MODBUS™ TCP/IP allowing your data to be recovered over the web.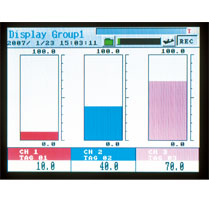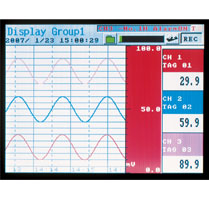 Don't hesitate to contact us for any further information.

Not what you are looking for?


If you need

more than 6 inputs

.




Do you want a

bigger screen

? This large version comes with a 12" full colour screen for better visibility.




You prefer the

feeling of paper

? Have a look at our range of paper chart recorders.






Sales brochure
One Download
Quick reference guide
One Download
Instruction manual
4 Downloads
Price list
No Downloads have been defined.