Fuji Electric PXE Low Cost OEM Temperature Controller
The Fuji Electric PXE is a low cost, high quality temperature controller particularly suitable for OEM applications. The PXE includes the most commonly used features such as On/Off and PID control, NEMA4X front panel, simple key operations and is also very compact.

Fuji Electric PXE
PXE controller allows the user to select ON-OFF, PID, or Fuzzy logic temperature control. A wide range of temperature sensors can be used (Pt100, Type K Thermocouple bsing the most popular). The PXE is very only 62mm behind the panel and fits into a standard 48 x 48 mm panel cutout. This provides OEM's and machine manufacturers the opportunity to save costs on panel size.
Features:

Simple key operation.
PID, auto-tuning and fuzzy control are provided as standard.
Waterproof front panel conforms with IP65 (NEMA4X) as standard.
Panel Depth of 62mm and 1.6mm in front of panel.
Two alarms can be provided as an option.
Low Price
The Fuji Electric PXE has been designed with OEM's and machine builders in mind. It provides accurate and reliable temperature control, priced for those who purchase regular quantities of temperature controllers. For more details on custom pricing or badge labeling of this product with your own company logo, please contact us for more details.
Simple Operation
With 4 keys accessible from the front panel it is now even easier now to change the settings of your Fuji Electric Temeperature Controller. We can even despatch your controller with custom settings, minimising commisioning time and simplifying the available parameterrs to those you need.
Ultra Slim
At only 62mm behind the panel, the PXE is one of the smallest temperature controller in the market. This reduces panel depth and reduces total machine costs.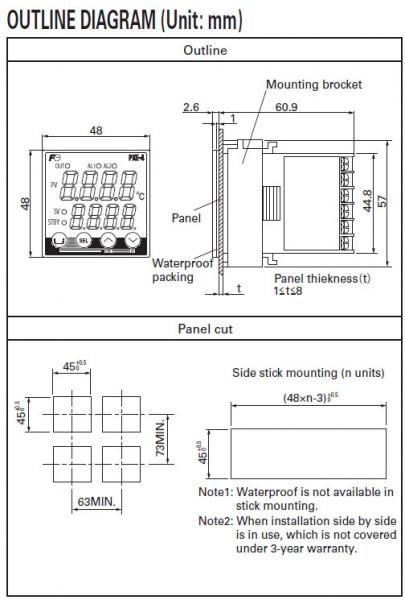 The Fuji Electric PXE is a brand new Temperature Controller and is now available. Get in touch and get a quote today!