Fuji PXF9 Temperature Controller
by Fuji Electric
Fuji PXF9 temperature controllers are the latest additions to Fuji Electric's trusted line of process and temperature controllers. The PXF9 is a 1/4 DIN (96mm x 96mm) is our temperature controller of choice. It is compact, easy to use and with a large and bright LED display.
In addition to auto-tuning and fuzzy control, Fuji PXF5 temperature controllers now come with self-tuning - an innovation in the control field. Self-tuning automatically re-tunes the controller under certain conditions, without the need to revert to auto-tuning.

PXF9 Temperature Controllers
Features:




Competitive price
Delivery Ex-stock for most variations
Universal Input (thermocouple, RTD, 1-5Vdc and 4-20mA)
Output types, relay contact, SSR/SSC and 4-20mA
On/off control, PID with auto-tune & Fuzzy control as standard
Fuzzy control eliminates overshoot & reduces external disturbance
Sixteen types of alarm with one or two relay contact outputs
Setpoint ramping, dual PID heating/cooling and heater break alarm
Power supply 24Vdc, 24Vac or 100-240Vac
Weatherproof front panel IP66

PXF9 size:
1/4 DIN (96mm x 96mm)

Simple operation
The PXF9 accepts any probe type as an input (thermocouple, RTD, 1-5Vdc and 4-20mA) and can control any type of device with 6 types of output available (relay contact, SSR/SSC, 1-5V 0-10V and 4-20mA).

It is simple enough to be used for basic "ON/OFF" applications with minimum set-up thanks to the auto-tuning feature.
The Fuji PXF temperature controller accepts process and temperature inputs and offers a choice of three kinds of outputs to meet a wide variety of needs in the process industries. Single or dual outputs include relay, SSR driver, or 4-20mA.
64-step profile
The Fuji PXF9 temperature controller's standard 16-segment ramp/soak feature has been expanded to include four patterns that can be linked to create a 64-step profile.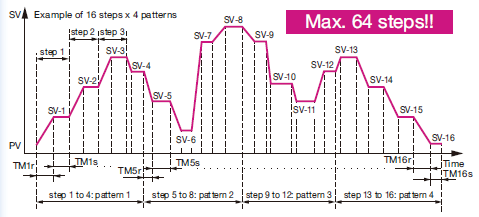 Large display
One of the most impressive features of these Fuji PXF9 temperature controllers is the large LED display. The faceplate, designed for NEMA 4X (IP66 equivalent) is watertight and corrosion-resistant. The easy-to-use 5-button keypad allows for programming similar to the popular Fuji PXR, PXZ, PXV and PXW controllers. The screw-terminal on the back further reduces the cost by eliminating the need for sockets.
Simplified communication
The PXF can be connected to a PLC without the need to write a program for it.
The PXF series can also be connected with PC and HMI devices.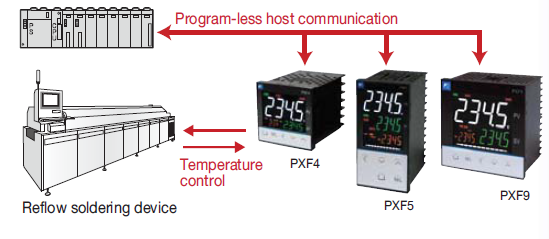 Outer Dimmensions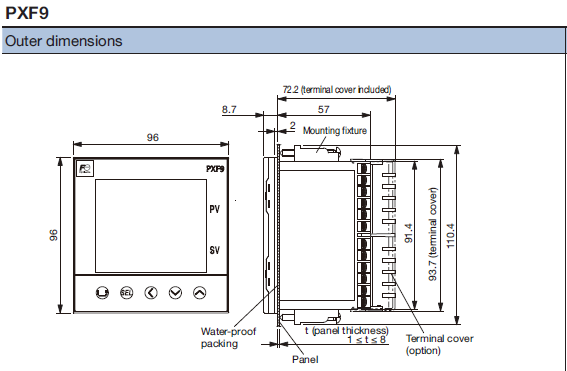 Not the size you are looking for? Have a look at the Fuji PXF4 (48 x 48mm) or Fuji PXF5 (48 x 96mm)
PXF Sales Brochures
One Download