Fuji Electric PORTAFLOW C Ultrasonic Flowmeter for Liquids
Main Features of Fuji's Portable Ultrasonic Flowmeter
It's market leading and patented software enables it to be used on liquids, where there is <12% air bubbles in the liqiud flow.
The "clamp on" capability means that it can be fitted to the outside of a pipe.
It is ideal for surveys, but it also allows installation of a more permanent flow measurement, without having to shut down the manufacturing process.
A single set of sensors can be fitted to pipes with a minimun diameter of 13mm and a maximum diameter of 300mm.
The portaflow's display also acts as a data logger, storing data to a standard SD memory card (CSV format). This allows data to be transfered to a PC for analysis.
To assist with surveys, the display can be preprogrammed by the user with a number of survey meter locations. This stores specific installation information making life easier on the day of the survey.

The Portaflow-C flow meter is a non intrusive, non evasive clamp-on ultrasonic flow meter, which is suitable for measuring the flow and total flow of liquids in closed pipes. It is particularly useful where high accuracy is required and the flow meter needs to be installed without shutting down the process. The Portaflow C is the latest release in the Fuji Electric flow metering range and uses the Micro processor and digital signal processing technology to provide a compact, lightweight solution with accuracies that are better than 1% of Flow rate.

Portaflow is quick and easy to set up and is ideal for flow surveys. if you need an ultrasonic flowmeter for hire, Portaflows allows you to try before you buy at competitive weekly or monthly hire rates. For more details on hire charges Why not call us.

Ideal for Water, diesel and heating oil.

Available for Hire at competitive rates
Next day delivery in the UK
Call us now on 01202 480303
New

4,7 inch colour graphic display

-All the parameters are available via an easy and friendly operator interface,



Compact and lightweight

-Size and weight have been reduced by 30% in comparison with the previous model - now only 120x210x65mm and 1 Kg !



IP64 protection

-The flow meter is water resistant and tolerates exposure to rain



Long time battery operation

-Designed for

12 hours

of continuous operation with its own built-in battery



USB communication

-A universal USB port permits communication with PC compatible

user-friendly PC loader software

-It allows the configuration, to save and load all the parameters of the converter. It also allows reading and saving of data logger files onto a computer
Large capacity storage on SD memory card

-Flow, velocity and total data can be stored in SD memory card (data logger function). Files are saved as csv files, directly compatible with MS-Excel software
Heat quantity measurement

-This function calculates the heat quantity received and sent with liquid (water) in cooling and heating. Two 4-20mA inputs are available for temperature measurements
Flow velocity profile measurement

(option) -Flow profile can be monitored in real time. Pulse doppler method with specific sensors model FSD is used
Typical Applications
This flowmeter is suitable for measuring:

Boiler feed water
Cooling water
Clean in place (CIP) spray systems
Paint
Milk
Syrups
Fruit juice
Drinking water
Injectable water

The above fluids can be measured over a wide range of process conditions including very low and very high pressure. Fluid temperatures can also be on a range of -40 to +200 deg C.

Detector Selection Guide
A wide range of detectors is available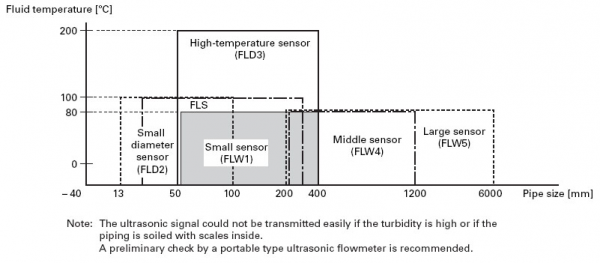 (If you are looking for the previous version of the Fuji Electric Portable Flowmeter, the Portaflow-X, please click here)

Sales Brochure
2 Downloads
Instruction Manual
2 Downloads
See also


The Fixed version from Fuji Electric, with advanced features such as the Anti Bubble Measurement system.